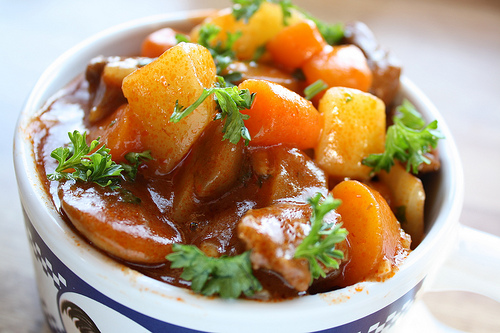 After the gluttonous escapades of holiday eating, it is natural to look for ways to detox and trim down. Yet when it is bitterly cold outdoors, my body seeks that nourishing warmth to coat me inside out. What cries out to me? No cold salads, low carb diets or nonfat foods will satiate me! Hopefully what awaits me as I walk through the door is a bowl of steamy hot soup or chili with a nice crusty baguette, or a pot of chunky beef stew simmering over the stove, or even better the aroma of whatever went into the slow cooker prepared hours before. I received a new slow cooking cookbook from my son this Christmas. There is a great selection of delicious meals with little preparation. Those slow-cooked Asian Red Glazed baby back ribs are fall-off-the-bone tender. It is ready as soon as I get home from work and when the mouth-watering aroma hits me…wow! If you haven't used a slow cooker, give it a try. It sure comes in handy in a busy household.
I'm all for being healthy so don't despair about not getting back into shape because many of these recipes are nutritious, balanced within the food groups and low calorie. Just watch the portions. With my comfort food before me, all is right with the world…especially on cold wintry days.
Wishing all a Happy and Healthy New Year!
The Italian Slow Cooker by Michele Scicolone
Make it Fast, Cook It Slow by Stephanie O'Dea
Slow Cooker Comfort Food by Judith Finlayson
Taste of Home Casseroles, Slow Cooker & Soups
Williams-Sonoma Essentials of Slow Cooking: Delicious New Recipes for Slow Cookers and Braisers
The Best Slow & Easy Recipes by the Editors of Cook's Illustrated
The Complete Book of Soups and Stews by Bernard Clayton, Jr.
The Ultimate Soup Cookbook by The Reader's Digest Association
Braise: A Journey through International Cuisine by Daniel Boulud and Melissa Clark